So I compiled a Linux kernel with 8 threads in parallel on my Linux desktop machine, as I always do. The CPU worked extra hard as usual, but lately its temperature began to rise, ending up at 88°C. It looks like a clock gating mechanism kicked in to save the CPU.
But hey, this never happened in the past! Asking a round a bit, I was advised to check if the fan is OK. Maybe the thermal paste went dry.
Opening the case and looking, I noticed that the heatsink was full with dust. More precisely, a lot of dust was stuck between the heatsink's grill blades, obstructing the air flow. No air flow, no cooling. So I unsnapped the fan off the heatsink, took a vacuum cleaner, and removed all dust.
And my PC is like new now! The temperature goes from 30.0°C to no more than 44.0°C when I run that kernel compilation test (watching the temperature with "watch sensors" at shell prompt).
It was that simple.
Note to self: Vacuum the CPU's heatsink every now and then.
And here's what it looks like after two years, during which the computer has been on continuously (click on images to enlarge):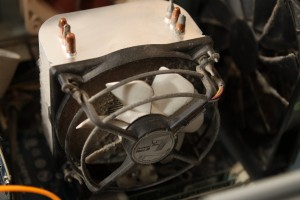 And this is with the fan taken off. One can clearly see that the layer of dust disrupts the air flow.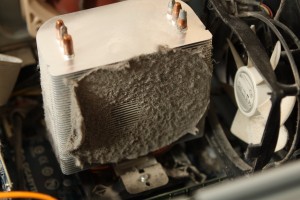 A minute with the vacuum cleaner, and we have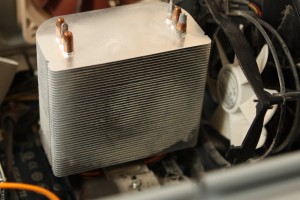 Snap the fan back in place, and the computer is ready to go!